The new CD by Los Muñequitos de Matanzas is in the production stage. Named "De palo pa´rumba", the album is produced by Maestro Frank Fernandez and includes over a dozen titles, like "Homenaje a Chachá", a tribute to one of the best Cuban percussionists and founder of the group who died in 2007 (Esteban Vega Chacha).  

This record  will be launched by the end of this year.  

Formed in 1952, this rumba group is famous throughout the world and they have charmed audiences everywhere during their 56 years of experience on the stages. These dancers and musicians are recognized as members of an essential and long-lasting traditional group to date.  

They won the Latin Grammy award in 2001 with the record "La Rumba soy yo" and won the Honour Award of the Cubadisco 2008 International Festival. Their discography includes the fabulous CDs "Tambor de fuego" and "Rumba de corazón". Here in Cubamusic you can find out those, ready to download. For all cuban rumba fans!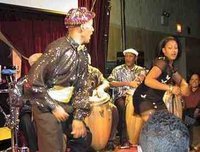 Los Munequitos de Matanzas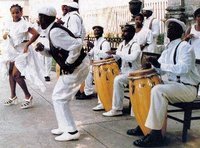 Los Munequitos de Matanzas